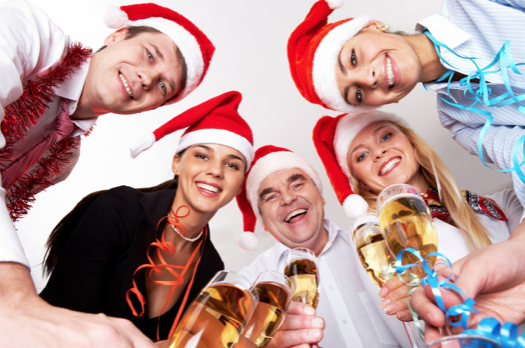 If you're like many people this holiday season, you simply can't wait for the celebrations and festivities to start. In fact, you're looking forward to a lot of things this season. Finally, you can see friends and family in person. You can munch on plenty of your favorite holiday food with your loved ones. The air is filled with coziness, happiness, and love.
However, for people who love to dress up for any occasion, this is again an opportunity to show their style. If celebrating in style is not your thing, you can try it out this year. If there's one thing that the pandemic has taught everyone, it's that life can be short, so you might as well try everything today.
Whether you like to dress up or not, you'd still want to arrive at the festivities looking good. Let this article help you out. Here are some tips on looking stylish and stunning this holiday season.
Festive Hairstyle
For any party you'll go to this holiday, flaunt a simple but festive hairstyle. Going festive, however, doesn't mean you have to wear a crazy hairstyle. It simply means sporting a hairdo that's easy to "carry" while you're enjoying holiday parties. It means something light but fun.
Cosmopolitan suggests 17 hairstyles for the holidays. You can go natural with a hair blowout, beach-style waves, or a long bob with a modern style. You can wear a half-up ponytail, top-knot bun, or a loose bun if you want everything kept.
Use easy statement hair accessories such as bedazzled hairpins, a pearl headband, or a pearl hair clip to up your hair game. For a full magical effect, wear any kind of braid—a double braided bun, halo braid, waterfall braid, or fishtail braid.
Festive Skin
Prepare your skin for the festivities. Keep it looking fresh with the right skincare products. Wash your face with the right facial wash and moisturize daily. Before putting on makeup, make sure to use a primer. It will protect your skin against all the chemicals found in cosmetics.
The holidays can also mean you'll be subjected to stressful preparations like party planning, cooking, wrapping gifts, and decorating your house. If you're exposed to stress, it can leave your skin with clogged pores and acne breakouts. One good way to battle stress is to get enough sleep. So, this holiday, make sure you get enough rest time amid all the parties.
Festive Teeth
Aside from Halloween and Valentine's Day, Christmas is the only other celebration that makes people want to eat excessive sweets. Make sure that your teeth can take all the sugar. Practice good oral hygiene.
The holidays are also a season that requires a lot of picture-taking. Make sure you're ready to smile for the camera, together with your family. If you have oral problems, visit your dentist. But if you have more severe problems like an overbite, an underbite, or jaw pain, see a dental surgeon. Going to a dental professional can make you feel comfortable and look good when you smile for the group selfies.
Festive Makeup
Winter may limit your exposure to sunshine, but there are ways to make your skin look sun-kissed. You can use makeup to get this look.
According to People, you can use instant tanning wipes. They'll give your skin a natural glow that looks like you've been recently back from a tropical vacation. To give your skin extra sparkle, spritz some shimmer on your skin.
If you've started to develop shadows under your eyes because of all the late-night parties, use a highlighter to illuminate the area. Add some false lashes to make your eyes pop out more in photos.
Festive Outfit
Develop a plan for your outfits this holiday. Put together two sets that you can use separately—one for family gatherings and another for parties with friends.
Gatherings with your family are laid-back celebrations. Make sure to wear simple but stylish outfits for these occasions. While plaid is the unofficial pattern in holiday wardrobe, it doesn't necessarily mean it's your only option. As for the color, avoid sticking to just red and green. You can also go with a traditional holiday sweater, pullovers, or cardigan, but pair it with a statement piece of clothing.
For parties with friends, choose textured dresses under a coat or puffer vest. And finish it with a spritz of festive fragrance from your favorite brand.
As Long as You're Comfortable
Don't worry; there's no right or wrong when aiming for a fabulous look during the holidays. It's a time of celebration, which means you can try anything, as long as you're comfortable with it.
Start this season and use the tips above to help you out if you're new to styling yourself.
Meta title: How to Look Fabulous This Holiday Season
meta desc: The list of things you look forward to this holiday might be long. If it includes wanting to get dressed up and look good, you're in the right place. Here are some tips on looking fabulous this season.