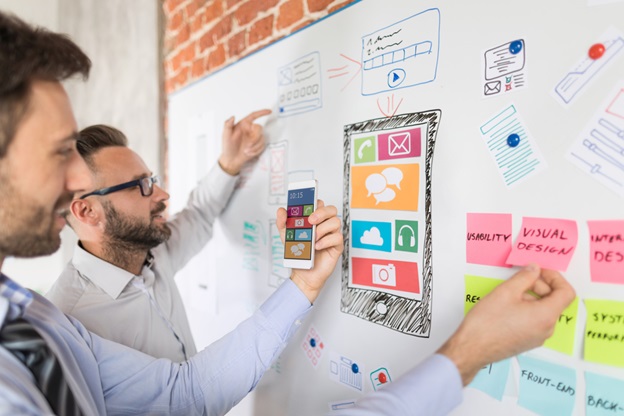 In modern business, apps exist in every industry, on all devices, making things more efficient for users. If you want your app to gain traction, it needs to be quality. And what's the best way to create a successful app? Hire reliable mobile app developers. But is that easier said than done? According to Statista, 2019 witnessed over 462 billion USD via paid downloads and is expected to grow over 935 billion USD worldwide in 2023. It's the convenience and mobility that makes the apps more engaging than the website.
A lot of things depend on the type of app you want to have for your website. For example, if you have a pre-existing business and want the app to be developed as an extension to your website, then the app needs to resonate with your brand image. On the other hand, if you're launching the app as one of the first prospects of your startup, you need to make a strong, lasting first impression. There would be great details to each of the above two scenarios of mobile app development, especially when you're willing to provide your users with personalized, fast, and secured logins, tracking them on GPS, faster checkout and payment options, etc. Now, for a reliable, experienced app development agency, catering to any of both the cases should come seamlessly – starting with building prototypes, looking after custom animations, as well as providing insights to app marketing. The more well-rounded and experienced the developers are, the better chances of them figuring out your business' requirements.
Therefore as a business owner on a lookout to hire the right mobile app development agency, here's how you can go about it:
1. Analyze Reviews and Feedback
The best companies are those that provide transparency in their reviews, showing all reviews whether good or bad. Many companies' sites will be full of positive reviews, and it looks good but isn't necessarily reputable. When all companies only show positive reviews, they begin to look meaningless. Here are some things you should do to ensure the company lives up to their reviews:
Contacting current or previous clients directly and ask about their experience with the company
Look for video testimonials from clients
Search the company on third-party review sites
Look at Google Reviews
2. Prioritize Quality Over Price
The hiring prices of app development companies can differ greatly. You know your budget and most entrepreneurs are unlikely to spend too much on hiring. Going too low is the real problem. Cheap services will often result in poor work, work which will cost you more to fix.
It's recommended you find a medium price you'd be happy to pay and then be willing to go a bit higher. Quality, trustworthy work is cost-effective in the long run. Apps are supposed to provide convenience and if it isn't fast and smooth to use, modern users won't want it.
3. Go Through Their Portfolio
Analyzing their work portfolio gives you a good understanding of previous apps they've created or developed. Hopefully, you're able to download some of the apps yourself and are pleased with what they've produced.
Here you should see what type of clients they're used to working with, what industries they created apps for, and what types of apps they've developed. Do they only create iOS apps? The best companies should provide both native and Hybrid app services.
4. Define your scope and recognize any hidden charges
Perhaps one of the most common issues of getting a mobile app developed by an agency is to understand their charges. While some enterprises charge as per their subscription model, others charge as per the scope of the project. Therefore, get transparent information about such details right from the very beginning. Are they charging more if you need the app across two platforms? For adding payment gateways or personalized login pages to your app come with additional prices?
The last thing you'd want is to pay double the amount of everything you want, in the pretext of affordable subscription charges. Thus, having clear communication on pricing details, the scope of your application, and post-delivery support, etc are crucial data that can keep your business up and running.
5. Ask for app store submission and app monetization
As a business owner, you should make it clear firsthand with the respective mobile app development company, if the process of app submission in the respective application store is part of their project. If not, you can always look up an expert who can help you with the right protocol to do the same.
You can also ask your agency about the process involved in getting your app monetized. For any experienced developers, they can guide you the right way to monetize your application.
3 Recommended App Development Companies
By using the checklist provided above, I've managed to pinpoint three different companies that may be worth your while.
1. iStrides
This company works with the latest app technology including Titanium, PhoneGap, and Icenium. Their app services include native, hybrid, and mobile app development. However, app development isn't their main service, their portfolio shows evidence of providing work for the education and automotive industries.
2. HubSpire
Rather than just a standard portfolio, HubSpire allows potential clients to look at full case studies of their previous work. They're definitely worth looking at to see what specific features they created for an app. They also provide an insight into how well they understood the purpose of an app and how they decided upon a solution. HubSpire is based in New York and on the more expensive side, but they're a quality choice!
3. CodeClouds
This is a large company that has offices in the US, India, New Zealand, and Australia. Part of their popularity comes from the hiring packages they offer. Their clients can hire an entire development team at a fixed monthly cost, gaining a well-rounded service. Hiring developers, support techs, a project manager, etc, costs a lot to hire individually. With 10 years of industry expertise and a portfolio with a lot of depth, they're a trusted app development company.
Wrapping Up:
Needless to say, the mobile app development market is saturated with agencies having expertise in building apps across different industries. Whatever app development service you choose, ensure you first run them through the above checklist as a fail-safe. Hope this has helped, good luck!