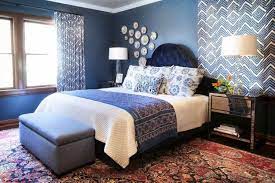 Welcoming, beautiful, and tranquil bedrooms are a common dream for anyone. Their unique yet fashionable interior designs inspire you to give your old bedroom a makeover and make it look like a hotel room from a catalog. 
But just like everyone, you know that doing so is hard work and that your dream of achieving a fantastic bedroom may not come true. But did you know that you can turn your room into something fancy without breaking the bank? In fact, many interior designers offer free advice on room makeovers. So yes, you can do it, too!
Here are the five steps in remodeling your old bedroom.
Step 1: Edit
Before making any decisions, take the time to look around your bedroom. Consider yourself a stranger seeing your room for the first time- does it look attractive and comfortable? Often, we unconsciously turn our bedrooms into storage areas. Unattractive pieces of furniture and ugly things are hidden here to keep the common areas looking neat.
The first thing to do is to edit through your head. Look at the four corners of your room n visualize what you want it to look like. Remove the unnecessary objects from sight and see how spacious your room can be without them.
Step 2: Redesign
Consider your room makeover like a road trip. You need to have clear directions and plans to accomplish what you had in mind. In this step, you need to redesign everything in your bedroom to ensure that they match the design you want to achieve. Is your bed too big? Do you need to buy a new mattress? Do you really need that bulky coffee table beside your bed? The answers to your questions can guide you in building your dream bedroom.
After you determine the changes you want to implement, it's time to make detailed plans. Where do you want to place your bed? Are there any specific accessories you want to have? In general, it all starts where you place your bed, and everything else smoothly follows once you see where the big furnishings should be.
Step 3: Paint
Your bedroom makeover will never be complete without changing the paint on your walls. Keep in mind that the color of your bedroom has a massive impact on your mood, so be wise in choosing. And this is also why repainting your bedroom is one of the easiest ways to give your bedroom a brand-new look. A new color can have the power to give your bedroom a different aura.
Don't rush in choosing a paint color. At this point, you need to consider your lifestyle and personality to ensure that your bedroom becomes your sanctuary. For instance, soft green or yellow can make you feel at ease if you like gardening. And if you're into the glamorous lifestyle, dark colors, such as black, gray, and brown, are the perfect choices.
Step 4: Revitalize
Now that you have a plan to accomplish your dream bedroom and after repainting your walls, it's time to give your bed the attention it deserves. One of the best ways to give your bedroom an instant makeover is by refurbishing your bedding. And no, you don't have to spend a fortune here. There are so many shops that offer bedding ensembles at a meager price. You just have to scavenge.
It's better to keep things simple when updating your bedding. Plain white bedsheets and pillowcases can instantly give your bedroom a hotel-like feeling. They look clean, elegant, and timeless. Toss in a few accent pillows for that extra oomph, and you will indeed sleep incredibly every night.
Step 5: Accessorize
The 5th step is the fun part. At this point, you can add accessories to your room to show your personality. Bedrooms are the perfect place to showcase your interests or hobbies, like your artwork or photographs. Make them look more aesthetic by investing in frames that match your room's design.
Playing with lighting would also be ideal. Make sure that at least one side of your bed has enough lighting. You don't have to buy a new one if you're on a tight budget; you can always repurpose an old lamp and decorate it according to your preferences.
And lastly, try to include unique and beautiful pieces in your bedroom to give it a different personality. Again, these pieces don't have to be expensive. You can use your grandmother's vintage vase or a few mementos of your recent travel to Asia. These last touches should remind you of the beautiful things in your life and the people you cherish the most.
Meta title: 5 Steps to Follow in Remodeling Your Old Bedroom
meta desc: Your bedroom is your sanctuary. It's that one place on earth where you can be yourself and not fear getting judged. So it only makes sense to create a room where you can feel calm and relaxed. Here are some room makeover tips to keep in mind.