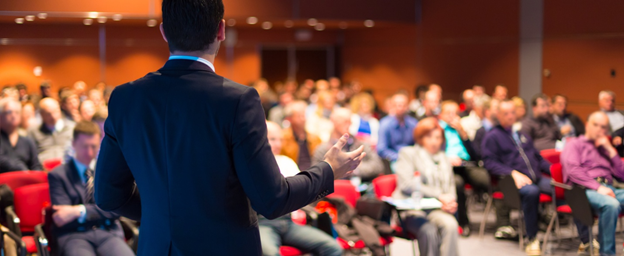 Looking to hire a keynote speaker?
As a professional speaker, I understand that it is incredibly important to book a quality speaker to move your audience towards action. However, it can be harder than you think to pick the right person or team to create the best outcome for your organization.
Worry no more. Below, we present a guide with everything you need to know about how to choose keynote speakers for hire.
Define the Purpose of the Event
Plan the purpose of the event to define the keynote speaker you will choose to hire. For example, if the purpose of the event is to inform, you will choose a keynote speaker who is an expert on the topic you wish to cover.
However, if the purpose of the event is to entertain, you will choose a keynote speaker who is funny and engaging. Choosing the right keynote speaker for your event is essential to its success.
Consider the Target Audience
When choosing keynote speakers for hire, always consider the target audience. What are their needs? What are their interests? What will resonate with them?
Once you have a good understanding of the target audience, you can start to narrow down your speaker options. Identify potential candidates who have a message that aligns with the event goals and who can connect with the audience on a personal level.
From there, it's important to do your research. Read through past speeches, check out media interviews, and get a feel for the speaker's style. Make sure they are professional, articulate, and engaging.
Once you've found a few good candidates, reach out and start the conversation. The best keynote speakers are those who are passionate about their message and who can connect with an audience to deliver a powerful, impactful speech.
Determine the Budget
When you are looking to hire keynote speakers, you will need to determine the budget that you have to work with. This will help you to narrow down your choices and find the right speaker for your needs.
You will need to consider the fee that the speaker will charge, as well as travel and living expenses. Once you have a budget in mind, you can start to look for speakers that fit within that budget.
Review Speaker Bios
When looking to hire a keynote speaker, the best place to start is by reviewing their bios. Not only will this give you an idea of their qualifications and experience, but it will also give you a sense of their personality. You can discover more about keynote speakers in the Bay Area if you visit their website.
Are they someone who is engaging and inspires others? Do they have the ability to connect with your audience? These are just a few of the things you should keep in mind when reviewing speaker bios.
Choosing the Right Keynote Speakers for Hire
Your next event will be a huge success when you choose the right keynote speaker. With so many options available, it can be tough to make the best choice for your event. Hopefully, these tips have helped you understand how to choose keynote speakers for hire and you can now make the best decision for your event.
Check out the rest of our site for more information today!