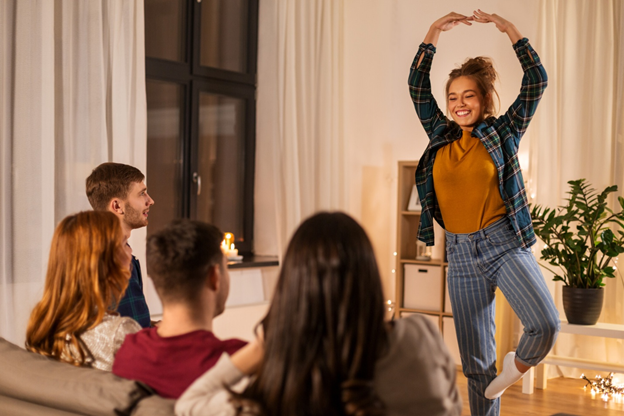 Are you looking for fun game ideas for groups? Planning the perfect party is essential to making your event a success. One of the must-haves is a fantastic party game.
Games are a great way to revive relationships and bring laughter to your event. You want to find the most entertaining and perfect games the guests can be excited and want to play again.
Looking for some fun games for groups for your next party? Check out these great options!
Scavenger Hunt
A scavenger hunt is a game in which players gather objects or complete tasks to win the game, typically in a designated area. Players may be divided into teams or may play individually. The game often requires players to use their creativity and problem-solving skills to find the items or complete the tasks.
Scavenger hunts can be indoor and outdoor games tailored to any age group or setting—a great way to get everyone up and moving around. You can create a list of items to find or set up a series of challenges for people to complete.
Charades
There are a lot of fun group activities, but one of the most popular is charades. This classic game is always a hit in any group activity. You can compete in teams or as individuals to see who can act out the scenes the best.
In charades, players act out a word or phrase while the other players try to guess what it is. This game is great for parties and other large gatherings, as it can be played by people of all ages and levels of experience.
It is a great way to break the ice and get people laughing, and it can also be used as a learning tool to help people improve their communication skills.
Codenames
Codenames is a party game for groups of friends. In Codenames, players split into two teams and take turns trying to guess the secret identities of 25 different people. The catch is that a player can only guess each person once, and the team loses that turn if the incorrect person is guessed.
It is an excellent game for large groups because it is easy to learn and can be played in a relatively short amount of time. It is also a great game for groups looking for a light-hearted and fun way to spend an evening together. Codenames are all about deduction and teamwork. Perfect for ages ten and up.
One Night Ultimate Werewolf
One Night Ultimate Werewolf is a Werewolf-themed game that is perfect for large groups. It is a relatively simple game that anyone can learn quickly, but it is also a lot of fun.
There are a few different versions of the game. Still, the basic premise is that each player is either a werewolf or a villager. The werewolves are trying to kill the villagers, while the villagers are trying to find and kill the werewolves. The game is played over one night, and each player has a specific role they must play.
It is a great game for groups because it is fast-paced, exciting, and easy to learn. Plus, it's a lot of fun to figure out who the werewolf is! And to add a more exciting thrill to the game, visit Great Escape Room St Pete to set the perfect hunt!
The Settlers of Catan
There are many fun activities for groups, but one of the most popular is The Settlers of Catan. This game is perfect for a group of friends or family who enjoy strategy and planning.
The game's objective is to collect resources and build settlements on the ever-changing island of Catan. Players must trade with one another to get the resources they need, and the person accumulates the most points wins the game.
The Settlers of Catan is an excellent game for those who enjoy a little bit of friendly competition. This strategy game is perfect for groups of 4-6 players.
Seven Wonders
There are all sorts of fun games for groups out there. But if you're looking for something everyone can enjoy, you should check out 7 Wonders. It's a great game for groups of all sizes and perfect for creating an unforgettable night of fun.
It's a card-based strategy game perfect for groups of 3-7 players. Also, best for ages ten and up.
In this game, players take on the role of one of seven great ancient civilizations. They'll need to collect resources, develop their civilization, and build world wonders.
The first player to complete three wonders wins the game. But beware, as your opponents can also complete wonders and steal the victory from you. So make sure you plan your moves carefully and don't let them get the better of you.
With its simple rules and exciting gameplay, 7 Wonders is a game that everyone can enjoy. So gather your friends and family and give it a try. You won't be disappointed.
Fun Games For Groups For A Great Time
There are various fun games for groups that people of all ages can enjoy. Some of these games include tag, charades, and interactive card games.
These games are not only fun but also provide an excellent way for people to interact and bond with one another. So get out there and have some fun with your friends and loved ones!
If you enjoy this article, visit the rest of the blogs on our website for more fun and exciting reads.