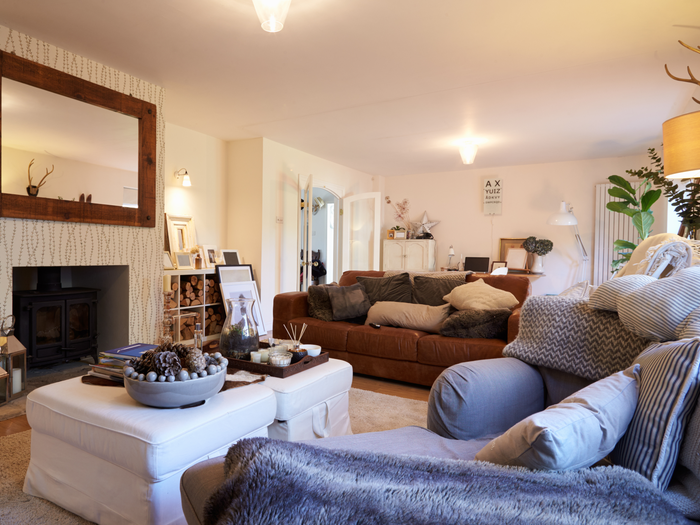 Making your home look like one of those featured in luxury living magazines and websites doesn't have to break the bank. You can always go for cheap items and use a ton of creativity. You can achieve a luxurious feel at home using these tips and tricks. 
A quick note before you remodel anything in the house: the looks come second, it is important that you pay attention to house systems first before you start revamping your place. Before you shell out any money on new paint and furniture, is there any big project the needs some attention first? Maybe there is a problem with your house's central heating system. If so, contact your furnace installers first. Or if you need more wall sockets in the kitchen, call your electrician.
Getting these problems out of the way will help you budget better. You don't want to stick new wallpaper now and then have them peeled after a bit because something needs to get fixed. That's a waste of money, for sure. 
Go neutral for the walls
Neutral color paint makes any space look put together and lavish. Repainting your walls or sticking new wallpaper is the most affordable way to make your space look new. A can of paint for your dining room won't cause more than $50. 
White will make your space look new and fresh, but you can also go for colors like beige and taupe. If you want to add drama and depth to a room, an accent wall will do the key. To have an accent wall, you just need to paint one of the four walls a different color, preferably darker. 
You can leave the ceiling as is, but if you want to add flair, you can always repaint it, too. Or better yet, buy some nice wallpaper to add texture. You can also easily hide imperfections and flaws using wallpaper. Just choose a design that goes well with your neutral walls. 
Use floor-length curtains
Curtains can add flair to any space in your house. Using the right length, color, and texture will do the trick in elevating your room from looking simple to elegant. Floor-to-ceiling curtains add the illusion of height, making a room look spacious. 
Depending on the room, you can choose between sheer fabric or thick ones. Sheer fabric is for when you need to maximize the natural lighting. If lighting is not a problem, choose regal colors for your curtains. The colors dark red, dark green, navy blue, and black add an expensive touch to white or neutral walls. 
The only problem with long curtains is they are not the standard size so you need them customized. Look for affordable suppliers around you to make sure you stick with the budget. 
Elevate your furniture
Work with what you have. If your furniture doesn't match the newly painted neutral walls, you don't have to lose them. Just changing the hardware will make them look brand new and luxurious. What you need to lose is the old hardware.
Replace the old cabinet handles. If you are going for a more modern look, shop for cabinet handles that will go well with that theme. Coordinate your towel holders with the handles and get them in the same color. 
Another way to elevate furniture pieces is by repainting them. If you go for a color that is close to the color of the walls, your space will look bigger. If you are afraid of experimenting with colors for the fear of ending up with tons of money wasted, coordinating colors are your best friend. 
You can add texture by having your furniture upholstered. Wooden chairs and sofas make a great combination with dark gray fabric. The texture of the fabric and the gloss of the wooden varnish will easily make your space look more expensive or luxurious. 
Focus on the little things
Little things like decor have a massive effect on creating an illusion of elegance. If you choose your decor properly, you will come out with an expensive-looking space and a happy pocket. Getting plants is a surefire way to do this. 
Any kind of plant will do, but you can pay extra attention to the vase you are going to use. White marble vases with gold or wood linings are perfect for neutral walls. To add a bit of glamour to mirrors and frames, spray a bit of gold. There are sleek-looking frames that are cheap. Get a few of them to hang pictures of you and your family on an empty wall. 
When you start doing small-scale renovations around the house, you have to keep the budget in mind. Every little purchase can add up when you don't pay attention to what you add to your cart. Make a list of all the things you want to elevate then create a limited shopping list around it.