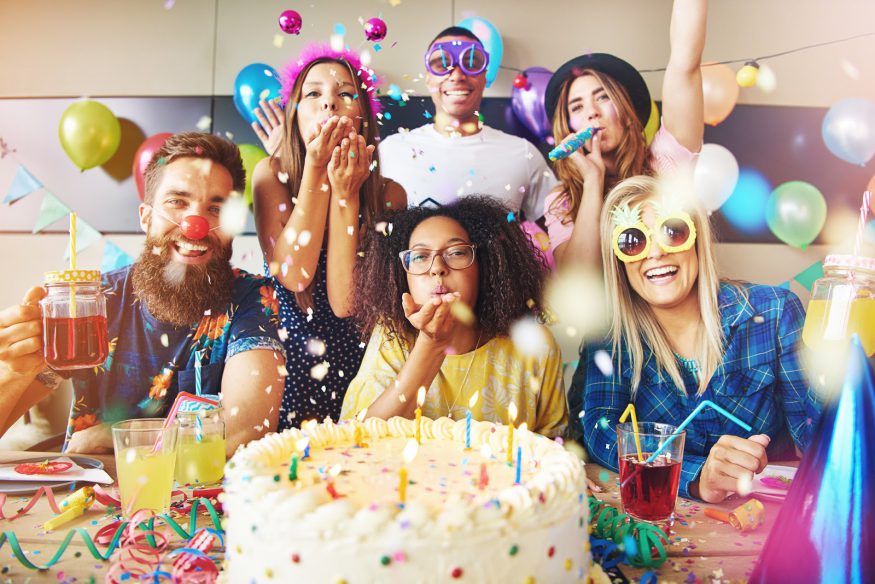 Nothing says birthday than a grand celebration. People usually bear a lot of meaning to a birthday, enjoying the special occasion with friends and family in ways unique from regular social activity. It happens only once a year, giving them a free pass to spend and celebrate life as the aging clock restarts.
Most birthdays will consist of only a few people you love, but there might be events where you want to enjoy the date with nearly everyone in your social circle. Your friends, family, colleagues, and even plus-ones might be part of your celebration. This version of your birthday party, however, can get expensive. You can justify the expenses because it only happens once a year. However, lack of preparation could lead to financial struggles for the rest of the year. If you decide that you want plenty of guests for your birthday celebration, here are your possible options.
Use Your Home
The most frustrating part of a birthday celebration is finding a venue. Celebrants want to ensure that the location can handle multiple guests. Unfortunately, all the available options can come with a cost, preventing you from splashing the cash on food and beverages. The venue will be your first expense target, but you might not have enough to treat the guests who took the time to celebrate with you. If your budget is not enough for a venue, you still have free real estate to utilize.
Your home can become the venue, and you won't have to spend much to prepare it for the celebration. Moving around a few stuff might be necessary, especially when you have fragile household items on display. Once everyone in your home agrees to the setup, the party can last the entire night. The pandemic might become a problem, making it necessary to practice social distancing. You won't have to worry about security deposits and other financial issues, allowing you to prioritize food and beverages. If you feel your budget is short, a home birthday party will be your best option.
Book a Spot at the Club or Restaurant
The problem with a home party is it can be a private space. Besides your family members having an issue with the noise and guests, the morning after might require hours' worth of cleanup. Your neighbors might also not appreciate the event, contacting the authorities because you disturb the peace if you didn't inform them beforehand. A birthday party will always be noisy and messy, making it necessary to find venues allowing both scenarios.
Fortunately, dance clubs and bars make for great birthday venues. Besides having a location that might be bigger than your home, the food and beverages are already available in their menus. Your group can reserve seating, saving you from the full costs of an entire place for yourself.
The same situation applies to birthday celebrants booking a restaurant. Certain food establishments market their menus and services to cater towards birthdays, even closing down the entire place for them. Birthday celebrations in clubs and restaurants present convenient options for your special occasion, making them ideal choices for a guest-laden gathering.
Go Nuts with an Events Place
Those establishments can help you create a memorable birthday celebration, but they might not be enough to contain all your guests. Sometimes, a birthday party is all about intimacy, enjoying a memorable time in the spotlight, and everyone in your life is present. If you are willing to spend more money on the venue, then an events place might be your best option.
Birthday party rentals provide people with the opportunity to celebrate intimately. Catering services and lights and sounds might be part of the expenses, but they are the things you pay for in a worthwhile celebration. If you are willing to splurge, separate hotel rooms might even be ideal for the special occasion. Hotels often have plenty of amenities, allowing guests to enjoy according to their preferences. The whole night doesn't have to revolve around the party.
The event venue will ensure a memorable night for you and your guests, perfect for turning one of your birthdays into a core memory for your friends. However, that kind of celebration requires budgeting months before it happens. If you cannot pull off the task, it might be better to reserve the grand birthday plans for next year.
Celebrating your birthday with the people you love will always be part of the special occasion. It will be costly, but people deserve to celebrate extravagantly every once in a while. Fortunately, you already know your birthday is coming up, giving you time to prepare. If you are after a grand celebration, the venue should always be the top priority. These options are a few of many, but they can be the best choices.
Meta title: Your Options for the Birthday Party's Location
meta desc: Locations are essential for birthday parties, especially when you plan to host a large number of guests. Read on to learn a few ideas that will help you with the event.