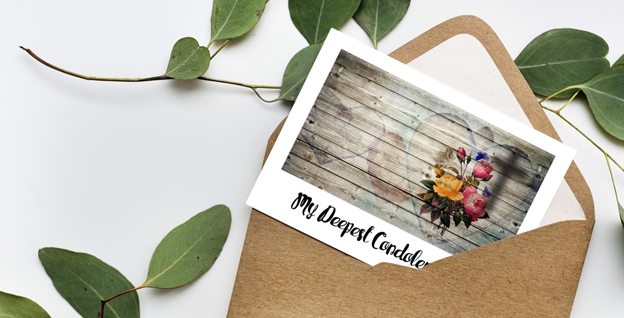 It is neve easy when a friend or loved one passes on, and it can be just as difficult to know what to say to a close friend when they lose someone they love. The first thing most people want to do is send flowers, and for good reason; it is a tradition that has been happening for centuries.
The earliest known burial site found with flowers dates back to 62,000 BC, but the act of sending a sympathy flower note is much later than that. If you struggle with what to write in a sympathy card, continue reading to find out just what to say.
A Bit of History
The importance of flowers at a funeral once went beyond wanting to show someone you cared. Before embalming was a thing, flowers would be placed in and around the burial site to mask the scent and odors of rot and decay.
A notorious example of this was in 1874 at the funeral of President Andrew Jackson, who was not embalmed. His corpse smelled so bad, that the funeral director was forced to close the casket and drape flowers on top of and all around the casket so that the funeral service could be completed.
Today, flowers are a way to not only show our sympathy and respect, but they also represent the fragility of human life.
Choose the Right Flowers
While you are looking into sending sympathy flowers with your funeral flower note, be sure to choose what is appropriate to the situation. Sending a floral wreath is a tradition because it represents the circle of eternal life. Here is a list of a few of the flowers and their significance as well.
Tulips for love, peace, hope
Calla lilies for resurrection and rebirth
Daisies for hope and peace
Snapdragons for strength and graciousness
Lavender for grace, devotion, purity
Orchids for courage, hope, peace, love
For more info on choosing the right flowers, check out florists like Phillip's, who can help you with all your flower funeral needs.
Simplicity of the Sympathy Flower Note
After you have chosen the right flowers, don't forget the note. Don't overthink this or make your sympathy flower note too long. The recipients of your note have a lot to deal with, but sometimes just knowing other people care speaks volumes.
You can include a special memory of the person if you knew them, but nothing too long, there is usually only so much space allotted on a sympathy flower note.
Here are a few examples of what to write in a sympathy card if you still don't know what to say.
Our thoughts and prayers are with you
Gone but never forgotten
Peace be with you and your family
Cared and loved by all
With deepest sympathy
If the person you are sending a sympathy flower note to is religious, then quoting scripture from the Bible can often be comforting; for others, it might be writing a line from a song or poem.
Wishes of the Family
It is important that you follow the family's wishes. Make sure to check the obituary or with a family member if flowers are wanted. A lot of times families will opt out of flowers altogether and ask you to donate the money instead to a charity of their choosing, so whether you are writing a sympathy flower note or not, the best thing you can do is be there for the family in their time of need.
If this article was helpful, check out the rest on our site for all we have to offer.