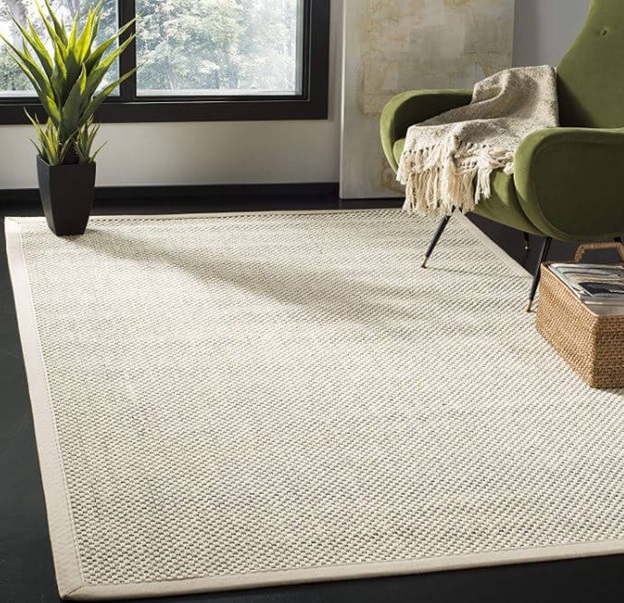 Because it is made from natural, renewable fibers that are sustainably harvested by hand, sisal is a great option if you care about sustainability. The Agave Sisal plant, also known as Agave Sisalina, gets its name from the Spanish port of Sisal in Yucatan, Mexico, which is where it was thought to have originated. Before being harvested and woven into rugs, sisal grows in semi-arid regions like Africa and South America. Before Brazil became the leading producer of Sisal, Tanzania's production of fiber peaked in the 1960s, when it arrived in Tanzania in 1893. Brazil now exports the most sisal, producing 125,000 tons annually.
A natural carpet fiber made from the long, spiny leaves of the Agave plant (species Agave sisalana) is called sisal carpet. Carpet made of sisal is extremely long-lasting and is frequently utilized in high-end homes and areas with a lot of foot traffic. It can be used as a runner, a wall-to-wall carpet, or an area rug. For a more tailored appearance, sisal runners and area rugs are frequently bound with a canvas border that is approximately one inch wide. The use of sisal has been rapidly increasing in Westchester County, New York.
Pros of Sisal rug
Sisal rug is not only one of the natural carpeting and rug options but also one of the most durable carpeting options. Compared to other fibrous materials like jute, the fibers of sisal agave are extremely durable and durable. Sisal is frequently utilized in marine rope, baling twine, and the auto industry as an environmentally friendly alternative to fiberglass and asbestos.
Sisal is coveted not only for its appearance but also for its durability. Similar to many carpets made of natural fibers, sisal has a distinctive color that is tan, beige, and creamy white. This color comes from the plant fibers it is made of. These fibers are woven into a fabric with a natural appearance, moderate neutrality, and compatibility with virtually any decor. Sisal, on the other hand, can be woven into other patterns or colors to create unique looks if you do want patterns or colors.
Because it is a natural carpeting material made of fibers, sisal is safe for people with asthma and allergies. Because it does not emit volatile organic compounds (VOCs) as nylon does, sisal carpets and rugs will improve the air quality in your home.
Because it is made from plant fibers, sisal is biodegradable, so once it has been used as carpet, it won't take up a lot of space in a landfill.
Sisal is a carpet and rug option that requires little upkeep. To keep sisal carpeting in good condition, all you need to do is vacuum it regularly.
Sisal is resistant to static and has low flammability.
Sisal is extremely absorbing because it is so absorbent, it can naturally cool your home on hot days and act as a humidifier.