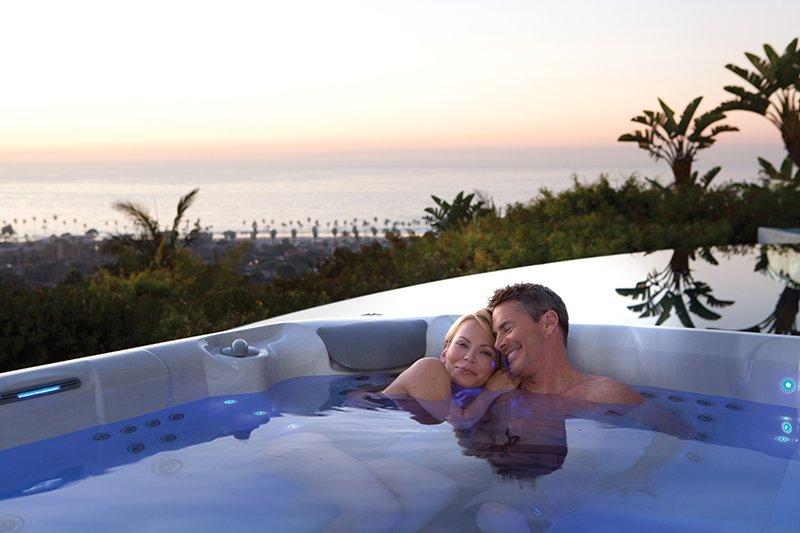 Hot tubs are extremely soothing.
There's nothing quite like sinking into a hot tub at the end of a long day. The warm water feels wonderful on tired muscles, and the hydrotherapy can help to reduce stress and promote relaxation. In fact, hot tubs have been used for centuries for their therapeutic benefits. The ancient Greeks and Romans would often soak in hot springs, and even today, many people travel to natural hot springs for their health benefits. While you may not be able to jet off to a spa every day, you can still enjoy the benefits of a hot tub right in your own backyard. Whether you're soaking solo or sharing the experience with friends, a hot tub is the perfect way to relax and rejuvenate.
They're great for your health.
Soaking in a hot tub can do more than just relax you; it can also offer some impressive health benefits. Regular hot tub use has been shown to improve circulation, relieve pain, and reduce inflammation. One of the most popular treatments is hydrotherapy, which involves using water to help relieve pain and improve circulation. Hydrotherapy can be used to treat a wide range of conditions, including arthritis, muscle pain, and even stress. In addition, spending time in a spa can also help to improve your sleep quality and increase your overall sense of wellbeing. So next time you're feeling stressed or sore, consider booking yourself a session at your local spa.
They're perfect for romance.
Hot tubs have long been associated with romance, and it's not hard to see why. There's something about the combination of hot water and bubbling jets that just seems to evoke a sense of intimacy. Perhaps it's the fact that hot tubs are often used for couples massages, or maybe it's the fact that they offer a private oasis where you can relax and escape the stresses of everyday life. Whatever the reason, hot tubs are often seen as the perfect setting for a romantic encounter. So if you're looking to add a little spice to your relationship, consider booking a session in a hot tub. You might just find that it's the perfect place to rekindle your romance.
They're great for group getaways.
Hot tubs are the perfect addition to any group getaway. Not only do they provide a relaxing space to unwind after a long day of activities, but they also offer a great way for groups to bond and connect with one another. In addition, hot tubs can be a great source of entertainment, with many hotels and resorts offering hot tub parties or movie nights. Whether you're planning a family reunion, a girls' weekend, or a guys' getaway, hot tubs are sure to make your trip even more enjoyable.
You can find them all over the world.
Hot tubs are a great way to relax after a long day. You can find hot tubs all over the world, from high-end spas to more affordable options. Hot tubs come in a variety of shapes and sizes, and each one has its own unique features. Whether you're looking for a simple way to relax or a more luxurious experience, there's a hot tub out there that's perfect for you.
So if you're looking for a unique and romantic way to spend your next vacation, why not consider soaking in a hot tub? With so many benefits on offer, it's easy to see why they're becoming increasingly popular all over the world.